Rolex Day-Date "Presidential" Review
Reference 118239
By: John B. Holbrook, II
February 13th, 2008
The Rolex Day-Date, or "Presidential" as it is often called because it has adorned the wrist of several US Presidents, holds a unique spot in the Rolex catalog and in the hearts and minds of Rolex fans. On one hand, the Day-Date is arguably the most sought after, and perhaps most recognizable models that Rolex makes. It is considered the top model Rolex has to offer - the ultimate status symbol. For many watch collectors and enthusiasts however, the Rolex Day-Date is model which generates only passing interest. Why? For one, in keeping with its unique status in the Rolex catalog, the Day-Date is only offered in gold and platinum, and not stainless steel. This makes the watch quite expensive (the example reviewed here retails for just under $25,000.00). It truly is a luxury watch - many owners wear them only sparingly and for special occasions. Many watch enthusiasts who are drawn to Rolex appreciate their robustness and rugged durability - the Submariner, the GMT, the Explorer, and the other "tool" watches earn special affinity. The Day-Date also has something of a stigma of being an "old man's watch" due to it being a very expensive, classic dress watch - you rarely see someone under the age of 40 wearing one. So among the watch un-educated, or those who have the means and simply want to buy a nice dress watch, the Day-Date is tremendously popular. But among watch enthusiasts, the Day-Date is decidedly less popular. However, among Rolex collectors and aficionados, the Day-Date is a respected model, and since very little has been written about this model, I decided to borrow a Z series reference 118239 for a few days and write a review.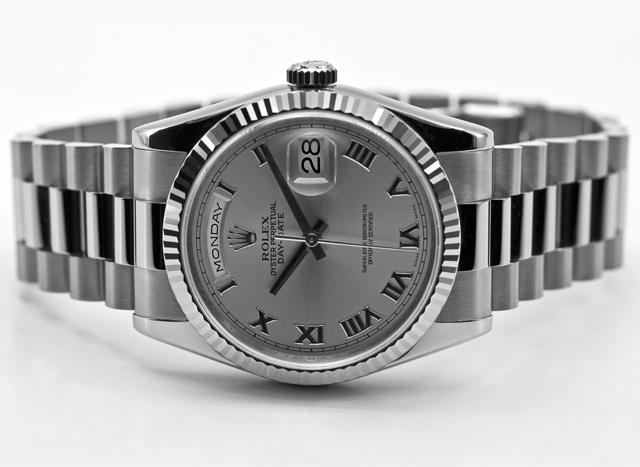 The reference 118239 Day-Date is in the less often seen white gold, with "Rhodium" dial, fluted bezel and Roman numeral markers. The white gold example is considered less ostentatious than its yellow gold counterpart and is considerably more subtle yet still quite elegant. The fluted bezel is quite an attention grabber though, as it tends to sparkle like a diamond in even the faintest of light. Being an old school kind of guy, my first choice for a Day-Date would be yellow gold, but I have to admit to liking this example in white gold. It is worth noting that, in true Rolex fashion, they really go the extra mile in creating their version of "white gold." Many jewelers will tell you that there's really no such thing as "white gold" because in most cases jewelry manufacturers apply a coating or "plating" of a white metal called rhodium over gold to give it's white metal appearance. As such, most pieces of white gold jewelry will require periodic re-plating to maintain its appearance. However, you need not worry about ever having to have a white gold Rolex re-plated because Rolex uses a very unique manufacturing process in the creation of their white gold - white metals such as palladium and rhodium are literally blended into molten gold to create solid "white gold." The alloy which Rolex creates is no doubt very expensive to manufacture as well as machine, much like Rolex 904L stainless steel. Some complain that white gold is so very similar in appearance to stainless steel, it seems a waste to pay so much extra when most people can't easily distinguish between the two. Of course, all you need do is hold the watch to know that it's a solid gold watch - at 178 grams it is quite heavy.
Because it is a dress watch, the Day-Date is considerably smaller than Rolex sport watches. The Day-Date dial is 36mm vs. 40mm for the Rolex sport models. This is another point which makes the Day-Date somewhat less popular among watch enthusiasts as many prefer contemporary "oversized" watches at least 40mm in diameter or larger. Cosmetically, the Day-Date has changed very little since it was introduced in 1956. In the below comparison photo, you can how similar this brand new Z series Day-Date is next to my 1984 Datejust - both are 36mm watches: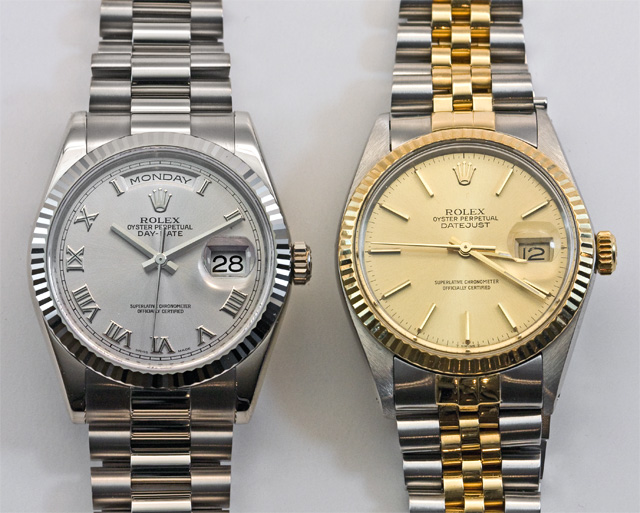 I have to admit that while the Day-Date is just 36mm in diameter, it looks plenty big when worn on the wrist, but the dimensions are quite appropriate for dress attire.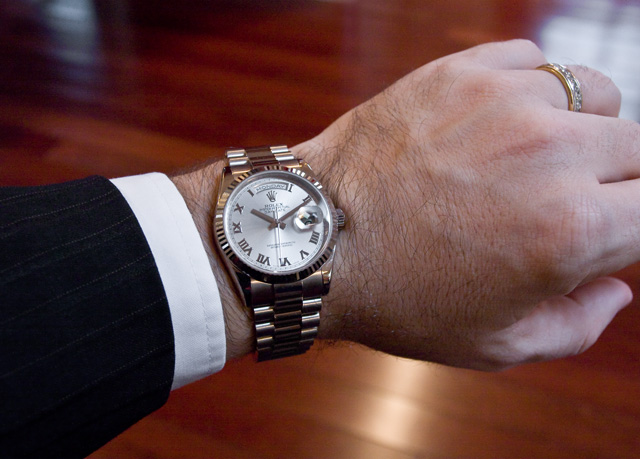 Among the more unique features on the Day-Date is the bracelet. Many casual observers may not realize that the Day-Date has an entirely different and unique bracelet than any other Rolex model. Appropriately, it's called the President bracelet and is sometimes confused with the Oyster style bracelet. Here's a photo of the Oyster bracelet on the new stainless steel GMT Master IIc: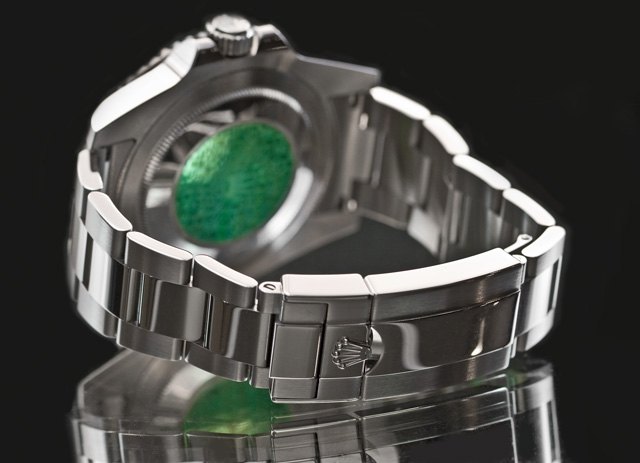 Now here's a photo of the President bracelet - both bracelets have brushed outer and polished inner links, but the Present links have a very different shape. Also note the hidden clasp on the President bracelet - to open the clap, one only need pull downward on the crown: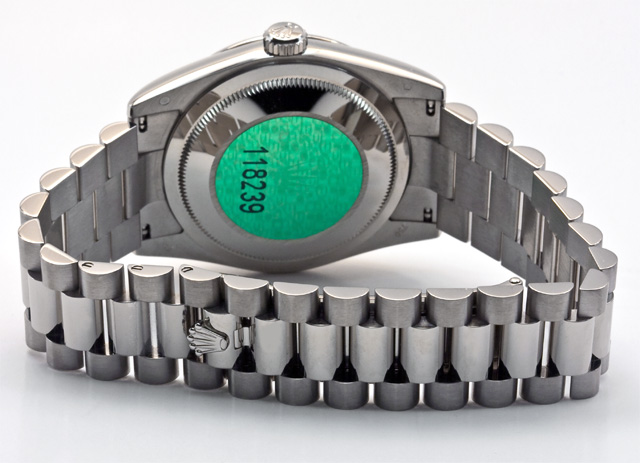 Here's a photo with the clap open - every piece is solid gold: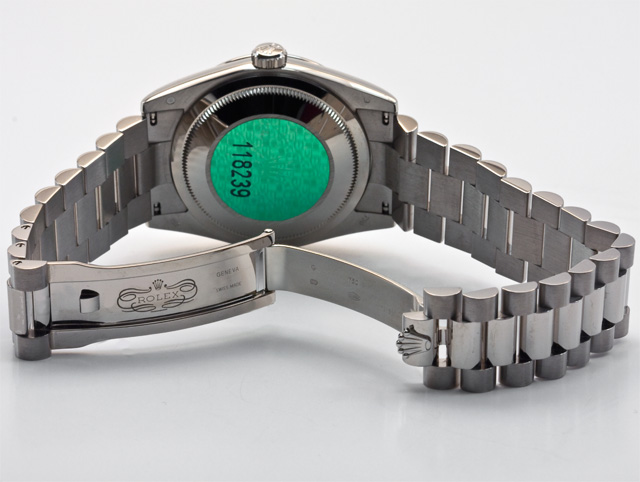 Here is a side view photo showing the polished lugs of the Day-Date, and the Twinlock crown. Unlike the Triplock crown on the more water resistant sport models, the Twinlock crown has just two dots beneath the crown logo instead of three, and is smaller in size. The Oyster case of the Day-Date is water resistant to 100 meters.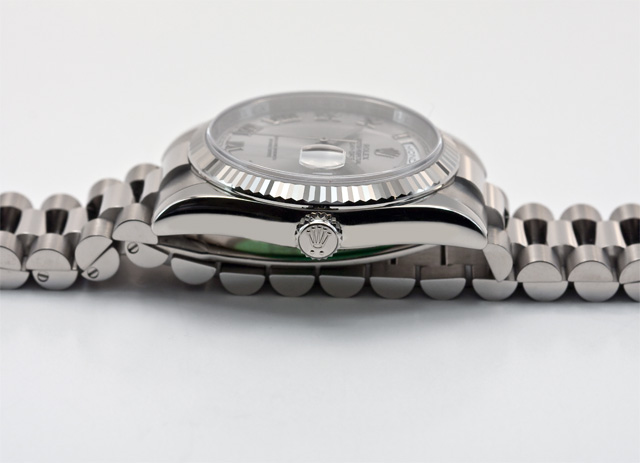 Inside the Day-Date beats the Rolex caliber 3155 - a nearly indistinguishable variant of the Rolex caliber 3135 movement. Rolex simply adds the day of the week complication to the caliber 3135 (found in the Datejust, Submariner, Yacht-Master, etc.) to create the caliber 3155. The 3155 is a 31 jewel automatic (aka perpetual in Rolex terminology) movement that is manufactured completely in house by Rolex. Over the years, many watch manufacturers have implemented an outsourcing strategy for various components of their watches and movements to attain manufacturing efficiency and cost reduction. However, despite the higher cost in inherent inefficiency of doing so, Rolex has always sought to completely control all aspects of the design and manufacturing by keeping it under their own roof. Their in house manufacturing of all their movements is one of the aspects which separate Rolex from other watch manufacturers who use outsourced movements to reduce costs.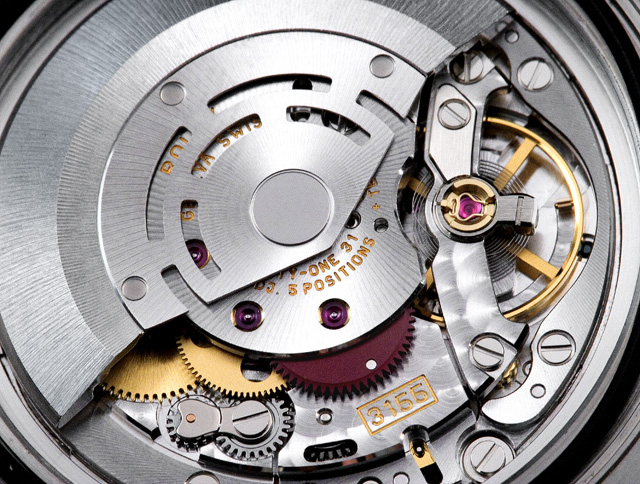 The Rolex caliber 3155 is a COSC certified chronometer movement and shares all the same design features of the more well-known caliber 3135, such as a Breguet overcoil balance-spring, and the Microstella adjustment screws, and Kif shock absorption. By and large, Rolex does not manufacture very complicated watches - most of their watches have simple three hand displays. However, the Day-Date is the only other model in the Rolex catalog (besides the GMT/Explorer II, Daytona and the newly introduced Yacht-Master II) which has a true mechanical complication beyond the standard three hand display. In my mind, this adds to the desirability of the Day-Date - not to mention the fact that the day of the week complication is among the more useful mechanical complications which can be offered on a watch. Of course, a day of the week complication isn't all together that "complicated" - all that is required is an added gear train which rotates the day of the week wheel in seven precise, even increments every 24 hours, making a full revolution every seven days.
Ten years ago...even five years ago, I wouldn't have given the Day-Date a second look. But the closer I get to the magic four-oh, the more undeniable appeal the Day-Date seems to have. I guess its just one of those things that happens as one ages. So for the past couple of years, I've found myself trying on Day-Dates at my local Rolex Authorized Dealer - again, the classic yellow gold variant would be my first choice. I was surprised at how well I took to the white gold model. More than a few Day-Date fans have successfully sourced the famous "ice blue" dial which can only officially be chosen on the platinum Day-Date, and placed it white gold models - something I would mind trying to do myself some day as I don't think I could swallow paying over $40,000.00 retail for the platinum Day-Date variant. But for now, I'll keep on holding on to my 30's, and be content with trying on yellow gold Day-Dates at my Rolex authorized dealer.
A watch is a great way to
learn time management
, as long as you pay
attention
to your commitments. Even some people with
college educations
don't have good time management skills! It takes more than just a good
degree program
to teach people how to
effectively
handle their time.